Arctic Hat

Be the first to write a review!
---
List Price:$29.99
Price:$19.99
You Save:$10.00 (33%)
SELECT AN OPTIONOption:
Keeps You Cool & Comfortable Through the Day!
in Outdoor
Evaporative Cooling Inner Liner Works Using Just Water - Keeps Your Head 20° F Cooler
Keeps You Cool & Comfortable Through the Day!
Wet Liner with Cold Water to Charge & Wring Out Excess
Product Description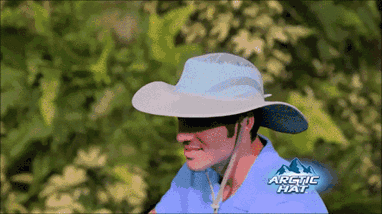 Arctic Hat is the new hat that combines controlled evaporative cooling and UV protection from the sun's visible and invisible rays. Arctic Hat's evaporative cooling inner liner retains cool water and slowly evaporates to keep your head up 20°F cooler. Simply wet the inner lining and put on the hat! Get instant relief from the heat and stay cool for hours.
Arctic Hat also has a built-in radiant barrier to deflect and block 99% of the sun's harmful UV rays and reflects 80% of the sun's heat. Arctic Hat is made from a durable, breathable and lightweight construction. The same technology is used by professional athletes, the US military, and emergency services. Best of all, Arctic Hat is adjustable, so one size fits most! Perfect for the whole family!
Customers who bought this also bought
Arctic Hat Reviews
Arctic Hat Reviews
No customers have left a written review of this product yet.
You can be the first to write one!
Rating Summary

50 total ratings
| | | |
| --- | --- | --- |
| 5 star | | 48% |
| 4 star | | 52% |
| 3 star | | - |
| 2 star | | - |
| 1 star | | - |
All ratings are from verified customer purchases.
Customers who viewed this item also viewed
Your Recently Viewed Items