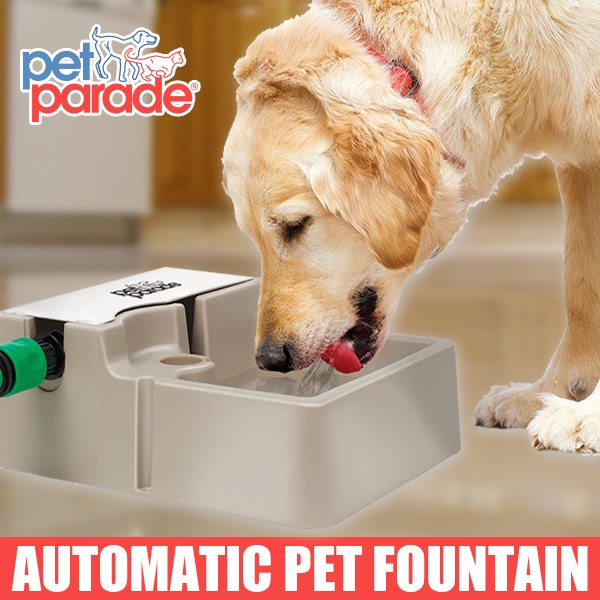 Automatic Pet Fountain

Be the first to write a review!
---
List Price:$39.99
Price:$27.99
You Save:$12.00 (30%)
Option:
Fresh Water for your pet!
Can be placed on the ground or wall mounted (hardware not included)
Connects to a standard garden hose or water bottle
Use indoors or out
Product Description
It is important that you make sure your pets drink enough water, particularly in the Summer months. Preventing dehydration can be difficult if your pet is fussy about the water they drink - animals do not like water that has been left to stand but a fountain bowl will provide them with constantly fresh and delicious water. If you leave your cat or dog at home during the day, you may find that you come home and their water bowl is empty. You can prevent this by using this automatic pet fountain to replenish their water throughout the day.

Your dog's body is made up of over 60% water. The active lifestyle of most dogs means that they need to drink a lot during the day to replenish the fluid they use up while running around. A medium size dog will need around 450ml of water a day, with this going up in warm weather.

If you feel like you're constantly having to top up your dog's water, an excellent solution is this water fountain bowl. The bowl will refresh itself as your dog drinks so that it always has more fresh water. This will help to make sure that your dog drinks enough and stays healthy. The water fountain is particularly useful if you keep your dog in a run during the day, as it can be hooked up to your garden hose to make sure they never run out of water while you are out.
Customers who bought this also bought
Automatic Pet Fountain Reviews
Automatic Pet Fountain Reviews
No customers have left a written review of this product yet.
You can be the first to write one!
Rating Summary

11 total ratings
| | | |
| --- | --- | --- |
| 5 star | | 27% |
| 4 star | | 72% |
| 3 star | | - |
| 2 star | | - |
| 1 star | | - |
All ratings are from verified customer purchases.
Customers who viewed this item also viewed
Your Recently Viewed Items