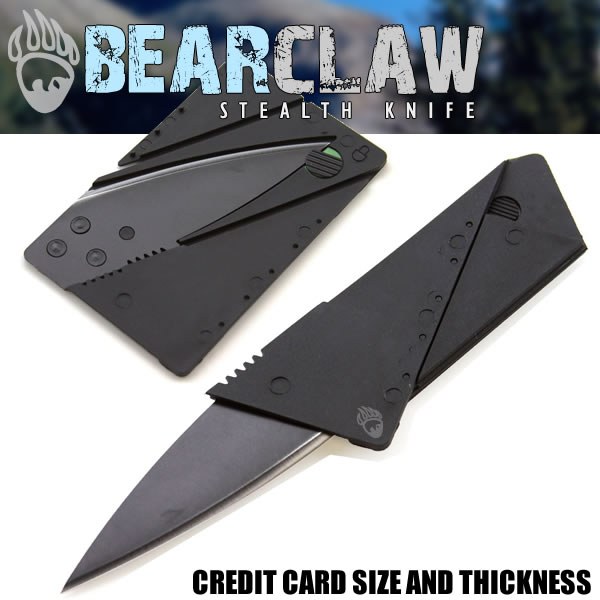 Credit Card Knife

2 reviews
---
List Price:$19.99
Price:$4.99
You Save:$15.00 (75%)
A stealth knife that folds to the size and thickness of a credit card.
Credit card size and thickness (2.2mm)
Folds to fit inside wallet or pocket
Steel Blade with Plastic Casing
Product Description
Three ingenious folding operations transform the Bearclaw Stealth Knife from credit card size to utility knife in a flash of high-tech origami.

This credit card knife features a built-in safety sheath that won't separate from the knife, and a subtle protective hilt that appears when the knife is in an open position, preventing the hand from slipping.

A snap open lock mechanism enables the knife to be opened using one hand and ensures the knife is safe and secure to use once opened with no blade tremor. Kept conveniently and safely in a wallet, the lightweight credit card knife at just 12 grams will always be handy (far lighter than an ordinary pocket knife). With surgical blade technology made from non-rusting stainless steel (heat treated with an ultra tough black oxide finish), this invention is as clean and as sharp as a carton knife and highly suitable for anything from carton opening, cooking, DIY, camping, gardening to pencil sharpening.
Customers who bought this also bought
Credit Card Knife Reviews
Credit Card Knife Reviews

by D.P. on 11/10/2016
Can't release the blade. Overpriced
Was this review helpful?

by I.A. on 10/09/2016
Good to have in the wallet
Was this review helpful?
Rating Summary

52 total ratings
| | | |
| --- | --- | --- |
| 5 star | | 50% |
| 4 star | | 42% |
| 3 star | | 1% |
| 2 star | | - |
| 1 star | | 5% |
All ratings are from verified customer purchases.
Customers who viewed this item also viewed
Your Recently Viewed Items