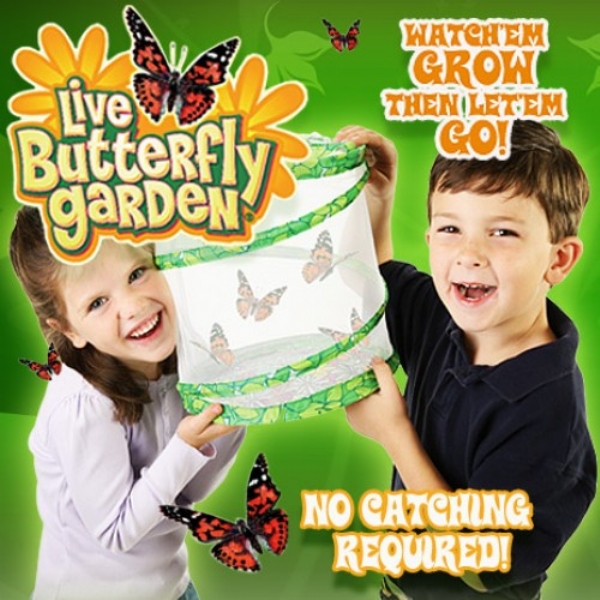 Butterfly Garden

1 review
---
Watch the Miracle of Metamorphosis in your own home or classroom!
Ages 4 & up.
Dimensions: 12x3x12
Includes: Butterfly Garden habitat, coupon for 5 butterfly larvae, and food.
Product Description
Watch the Miracle of Metamorphosis in your own home or classroom!

The Live Butterfly Garden offers children the invaluable lessons of metamorphosis, science, patterns, patience, and life cycle studies. Give the Magic of Metamorphosis to a child you love. This educational kit gives children, students and families an unforgettable opportunity to watch caterpillars change into chrysalises and then emerge as beautiful Painted Lady Butterflies. Raise and feed your very own butterflies and then release them into the wild! The entire transformation from caterpillar to adult butterfly takes about three weeks.

The Live Butterfly Garden Includes the reusable 11.5-inch tall mesh habitat, perfect for butterfly viewing, feeding pipette, and certificate for 5 live caterpillars that can be redeemed online.

NOTE: An extra $5 shipping may be required when you redeem your certificate. This fee covers the cost of shipping the caterpillars, and is charged by the company shipping them, not As Seen On TV.
Customers who bought this also bought
Butterfly Garden Reviews
Butterfly Garden Reviews

by C.G. on 09/07/2015
I bought one of these last year for my nieces. I also got one for me, and I'm in my 30's. I waited until the spring time to send in my caterpillar certificate. They came in their own little container with just enough food. So you don't need to feed them anything. I tried to put some real food such as leaves from the plants they like to eat in the wild, but they preferred the food that came with them. I think I received 6 caterpillars and they all turned into butterflies. I let them go a day or two after they emerged. Kids are completely fascinated by the process from caterpillar to chrysalis to butterfly. One word of caution, it may not be the best thing to get for Christmas since you may have to wait until spring to get your caterpillars. They will send them in the winter, but I didn't want the butterflies to die on me or freeze to death if I let them go.
Was this review helpful?
Rating Summary

2 total ratings
| | | |
| --- | --- | --- |
| 5 star | | 100% |
| 4 star | | - |
| 3 star | | - |
| 2 star | | - |
| 1 star | | - |
All ratings are from verified customer purchases.
Customers who viewed this item also viewed
Your Recently Viewed Items