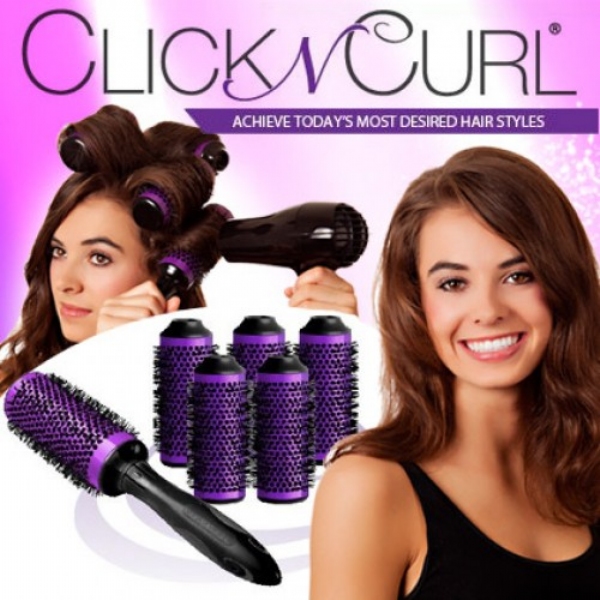 Click N Curl

2 reviews
---
List Price:$49.99
Price:$49.95
You Save:$0.04 (0%)
Click N Curl let you dry, style and curl your hair in one simple step.
Get Professional Results at HOME
No Clips REQUIRED
Vented Barrels Make Drying Time Quick
Product Description
Click N Curl let you dry, style and curl your hair in one simple step. Click N Curl™ is the fast, easy way to get professional styling results at home. Just wrap your hair around the brush barrel roller. Press the release button on the brush handle and leave the barrel roller in place. Then attach the next barrel roller and repeat the process.

The barrel rollers stay in place, no clips required. The result is volume and loose flowing curls without wasting precious time. Click and Culrl the hands-free way to style your hair. Features vented brush barrel rollers for faster drying, comfort grip handle. Great on wet or dry hair. Includes six 2.25" ceramic-coated barrel rollers and the brush handle.
Customers who bought this also bought
Click N Curl Reviews
Click N Curl Reviews

by U.D. on 09/16/2015
OK...so I will just start by saying that on a daily basis, I will use Sporette natural brushes which I will leave in my hair and then proceed to walk about the house with about 10 brushes in my hair. While this is entertaining for my husband and does result in the BEST hair ever...This is a much better solution. In fact, for years, I would think...wouldn't it be great if the brush and the handle were separate. Suffice to say, this is that solution.
Was this review helpful?

by O.Y. on 09/12/2015
I tried my new set this morning. It was so easy to get the fullness I don't get from a curling iron. The brushes stay in and it was quick to click the handle into the next brush. I could dry AND curl rather than dry THEN curl. I let them stay in until they were cool and went about getting ready for the day. Definitely will recommend to my friends!
Was this review helpful?
Rating Summary

2 total ratings
| | | |
| --- | --- | --- |
| 5 star | | 100% |
| 4 star | | - |
| 3 star | | - |
| 2 star | | - |
| 1 star | | - |
All ratings are from verified customer purchases.
Customers who viewed this item also viewed
Your Recently Viewed Items