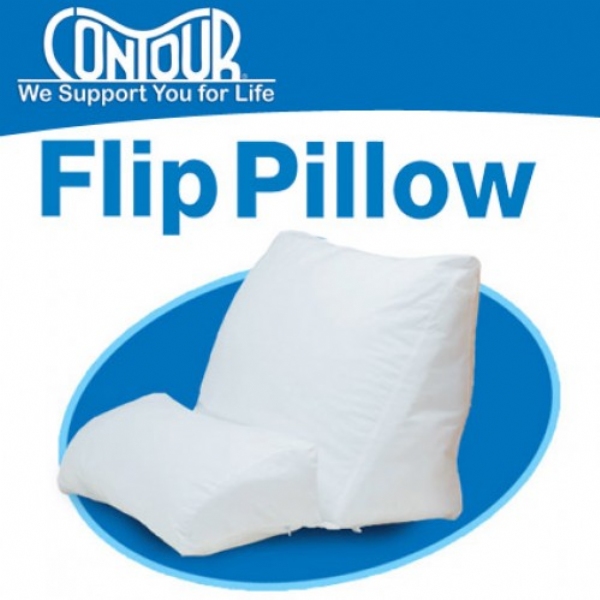 Contour Flip Pillow

2 reviews
---
List Price:$49.95
Price:$39.95
You Save:$10.00 (20%)
The most versatile pillow iwith 4 levels of back support at your disposal.
4 Levels of back support
Built in Headrest
Elevates head slightly
Product Description
The Flip Pillow is the most versatile pillow in its category, with 4 levels of back support at your disposal. It flips easily to accommodate a variety of positioning, providing comfort and aligning your neck , shoulder and lumbar region in any position, so you can rest, relax and rejuvenate like never before.

The Flip Pillow the most exceptional pillow available. 4-Position Comfort Pillow is designed to work in a variety of positions depending on whether you're sleeping, watching TV, reading or working in bed. The smaller lobe provides great support for proper head and neck alignment, without compromising a plush, comfort feel. Upright Position: Allows maximum back support for upright activities such as working on your laptop, playing video games or reading in bed.Relaxed Position:

A built-in headrest offers excellent neck, shoulder and back support for relaxed activities like reading or watching TV in bed.Inclined Position: Provides a gradual upward slope, ideal for those who need to sleep with their head slightly elevated.
Customers who bought this also bought
Contour Flip Pillow Reviews
Contour Flip Pillow Reviews

by T.H. on 06/30/2019
I'm using it now, as I'm writing this review. I love it while watching tv or reading,on the couch or the bed.
Was this review helpful?

by A.N. on 04/04/2014
First I this pillow on tv. Later on I decide to buy it because of severe back pain. It helped a lot when ever my back gets bad or some case when ever its hard to get up.
1 person found this helpful. Was this review helpful?
Rating Summary

21 total ratings
| | | |
| --- | --- | --- |
| 5 star | | 71% |
| 4 star | | 28% |
| 3 star | | - |
| 2 star | | - |
| 1 star | | - |
All ratings are from verified customer purchases.
Customers who viewed this item also viewed
Your Recently Viewed Items