Contour Legacy Pillow

1 review
---
List Price:$24.95
Price:$19.95
You Save:$5.00 (20%)
Sleep five ways better every night!
All night support and comfort.
Memory foam leg pillow.
Restores your natural alignment.
Product Description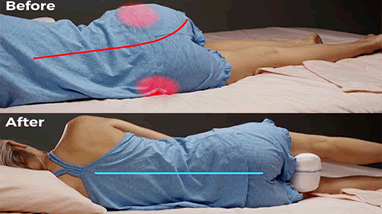 Relax in any position for a great nights sleep with the Contour Legacy Leg Pillow. Tapered edges and a concave center cradles your thighs and knees snugly, allowing you to move freely, change sleep positions, and bend your knees.
The Contour Legacy Leg Pillow is an orthopedic memory foam leg cushion that provides side sleepers comfort for their lower back, hips, legs & spine. By positioning you in your natural alignment, the leg pillow is designed to help alleviate pressure points that often cause discomfort & pain.
The one thing that makes the Contour Legacy Leg Pillow different than the rest, is our unique patented design to help side sleepers cushion not just their things & legs, but their knees too! By fully cushioning your thighs, legs and knees the Contour Legacy puts you in proper sleeping alignment. This prevents your back and hips from rotating that cause painful pressure points!
Made from a dough like memory foam for cushioning the support, the Contour Legacy Leg Pillow is the only leg pillow you need to give you all night comfort and support.
Customers who bought this also bought
Contour Legacy Pillow Reviews
Contour Legacy Pillow Reviews

by J.D. on 01/26/2020
Didn't know if I would like it and use it but turns out I love it. Can't go to bed without it.
Was this review helpful?
Rating Summary

52 total ratings
| | | |
| --- | --- | --- |
| 5 star | | 48% |
| 4 star | | 48% |
| 3 star | | - |
| 2 star | | 1% |
| 1 star | | 1% |
All ratings are from verified customer purchases.
Customers who viewed this item also viewed
Your Recently Viewed Items