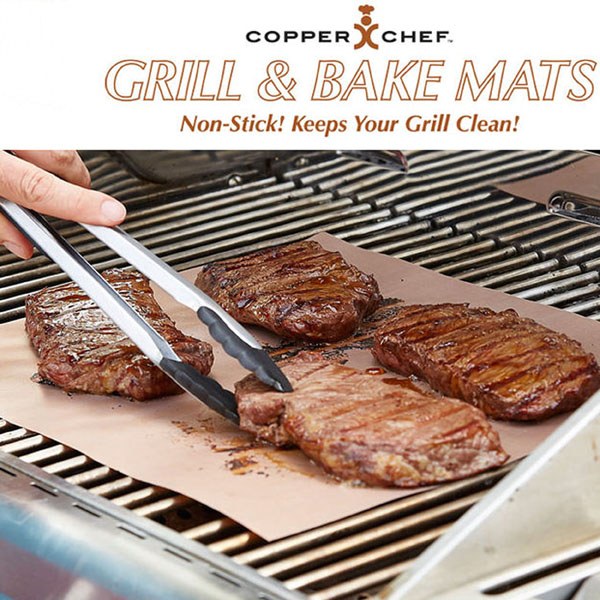 Copper Chef Grill Mat

Be the first to write a review!
---
List Price:$19.99
Price:$14.94
You Save:$5.05 (25%)
Keep your grill and oven clean
Copper infused, non-stick mats
Keeps foods from falling through grills grates
Reduces flare ups
Product Description
Copper Chef Grill and Bake Mats go on top of your grill cooking rack or under foods to keep surfaces clean as you grill or bake.



As seen on TV Copper Chef Grill Mats keep foods from fall through grill grates and or touching grates while still allowing distinctive grill marks.

Copper infused mats help cook foods evenly without flare-ups or charring. Foods cook evenly and slides off the mat with ease. Even burnt cheese and barbecue sauce slides right off. Grill and cook even the smallest chopped veggies. You will never have to worry about anything falling through the grates. And sauces and marinades stay on your food instead going down the gaps.

Great for public grills. Your foods will not touch those nasty-looking grates when you use the Copper Chef Grill mat.

Non-stick mats are great for baking, too. Protect your baking pans and keep your oven clean. Cut easily to fit any size or shape baking dish.

Do not use over 500 degrees Fahrenheit. Dishwasher safe and reusable.

Set of 2, 15.75"x13", 13.25"x 9"


Customers who bought this also bought
Copper Chef Grill Mat Reviews
Copper Chef Grill Mat Reviews
No customers have left a written review of this product yet.
You can be the first to write one!
Customers who viewed this item also viewed
Your Recently Viewed Items