EverBelt

3 reviews
---
List Price:$19.99
Price:$14.95
You Save:$5.04 (25%)
SELECT AN OPTIONOption:
The indestructible, adjustable, perfect-fit belt.
in Clothing
Fits 28 - 48 inch waists.
Genuine leather with kevlar inner core. Will not tear or stretch.
Ratcheting buckle.
Product Description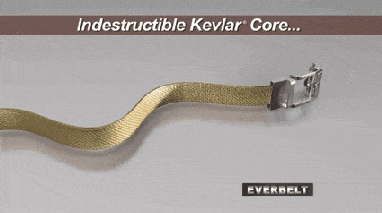 Introducing Everbelt, the world's first belt that's guaranteed for life. It will never wear out, never stretch, and never look sloppy. On the outside, Everbelt is hand-crafted with a beautiful, buttery-soft leather. On the inside, it's a virtually indestructible KEVLAR core.
The secret is it's wrapped around a virtually indestructible kevlar core. Plus our ingenious ratcheting buckle eliminates the need for belt holes all together. You simply slide and click, that's it! So no matter your size, you always get a custom fit so stylish, yet so durable, we guarantee the EverBelt forever!
Whether you're short, big, or tall, Everbelt fits them all!
Customers who bought this also bought
EverBelt Reviews
EverBelt Reviews

by S.G. on 09/07/2019
These belts are great, order black and brown.
2 people found this helpful. Was this review helpful?

by W.T. on 09/29/2019
too difficult for me to adjust. maybe others can make it work easier.
Was this review helpful?

by D.M. on 09/24/2019
Ever since I had back surgery on, on my back the third time, I couldn't stand a belt around my waist. With this belt it is different. With the narrow adjustments it fits snug, but not tight and my pants stays where I want to be. I will get more in the future.
Was this review helpful?
Rating Summary

52 total ratings
| | | |
| --- | --- | --- |
| 5 star | | 59% |
| 4 star | | 38% |
| 3 star | | 1% |
| 2 star | | - |
| 1 star | | - |
All ratings are from verified customer purchases.
Customers who viewed this item also viewed
Your Recently Viewed Items