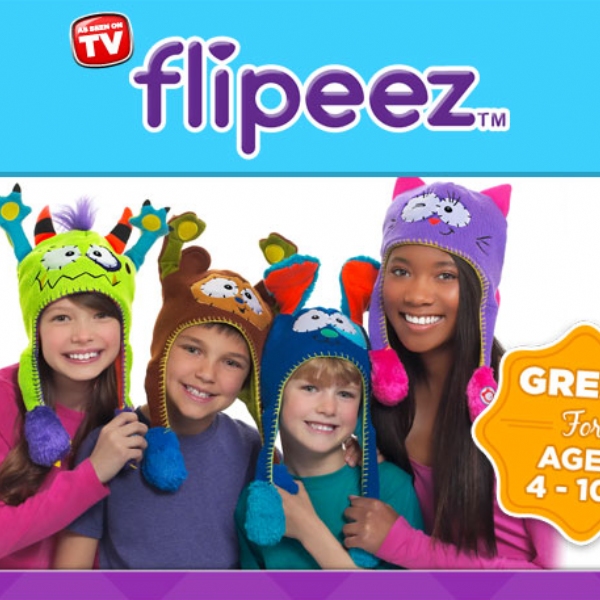 Flipeez

24 reviews
---
List Price:$19.95
Price:$16.95
You Save:$3.00 (15%)
Option:
From the creators of Stompeez, these fun, lively hats keep kids warm!
Keep Kids Warm in a FUN Way
Ears Flap and Tails Wag
Soft Fleece Lining for Extra Warmth
Product Description
Flipeez are animal hats that come to life right before your eyes! From the creators of Stompeez, kids' favorite pop-up slippers, these fun, lively hats keep kids' warm in a fun way. Just squeeze the tassel and watch as they flip into action. The ears flap, the tails wag and the arms open. Made of acrylic knit with a soft fleece lining for extra warmth. One size fits most kids and teens. 9" x 15". Imported. Flipeez seen on tv hats with attitude! Kids of all ages love Flipeez.
Customers who bought this also bought
Flipeez Reviews
Flipeez Reviews

by R.U. on 09/21/2015
This was for my 5 year old Nephew. He was so excited that he asked me about the mail every day and how many days left. The package arrived early by the way.The hat itself is a reasonably good quality knit cap. The winds are sewn on well. My only criticism is the (air) mechanism that makes the wings flap is kind of flimsy mine had to be manipulated before it was workable. The wings do flap, if not as well as the one on TV. My Nephew doesn't know that and is very happy with his Flipeez! That's all that counts right? I do want to get in a "plug" for the vendor. (Newbury Comics) There was a problem with shipping and the first one arrived damaged. I contacted them. Their response was immediate and their solution was to replace it without all the waiting for a return. I was impressed.
Was this review helpful?

by F.I. on 09/17/2015
The arrived promptly and my granddaughter absolutely loves it. My only problem is the ball on the bottom of each strap keeps coming undone and I have to sew it back on. We have had Flipeez before and never had this problem. So not sure if this one is just a lemon. This wouldn't stop me from buying again though.
Was this review helpful?

by Y.N. on 09/16/2015
Our 6 year old got one of these as a birthday gift. Within 30 minutes it was broken! Like the other reviewer said if kids are aggressive at all or even pull on the side with the pump it will break. Hopefully we can exchange it.
Was this review helpful?

by C.V. on 09/15/2015
My daughter absolutely LOVES this hat! It's so perfect for this time of year, as the weather transitions. Perfect for those who are in love with "Frozen" as my daughter is. This hat is made very well, and fits excellently on my daughter (she's 8). Very pleased with it. Would be a cute birthday or holiday gift as well. Definite;y recommend it!
Was this review helpful?

by R.N. on 09/15/2015
My daughter who is 4 y.o. is a fan of "How to train your dragon" movies so she just loves this hat. However, I gave it only 4 stars cause I didn't expect it to be so small (since it's one size option)!!!. So she won't be able to wear for too long. And it hardly fits my 6y.o.
Was this review helpful?

by J.F. on 09/15/2015
my son is 4 with average head for his age and it fits perfectly adn hopefully next year, as well. it is thick and warm and adorable and his friends tell him they love it, too. it covers the ears fine, but I would say on really cold windy days I don't think it will give good enough ear protection. only issue i had was poor packaging - one horn got flattened and i had to stretch it open a bit to make it pop up. i couldn't find it anywhere except here so if you want it, get it before it's no longer available. and when i said thick and warm - compare to the olaf hat you can get anywhere right now - it is somewhere around twice as thick as olaf.
Was this review helpful?

by N.M. on 09/15/2015
My son loved tho had, very cute it is so cheap here I looked every where and they were about 20$
Was this review helpful?

by K.L. on 09/15/2015
My son loves this hat. He put it on as soon as it came and did not take it off again the entire day!
Was this review helpful?

by O.M. on 09/14/2015
Kids love, lots of fun and cute. That said, they are overpriced IMHO but we got them because we knew they would be a hit with the grands and they are.
Was this review helpful?

by G.P. on 09/11/2015
I ordered this hat as a gift for my 5 year old nephew and he has been thrilled! It does not look much like monkey (in fact, he's convinced that it's a dog), but playing with its hand still provides him a lot of joy!
Was this review helpful?

by L.A. on 09/08/2015
I bought this for my daughter, and as we were walking out of the store, it broke. The pump stopped pumping. What happened is, she pulled on the dangly things that hang down by the ears( the part with the pump in it) and it disconnected and couldn't be fixed. Luckily, we returned it for a new one, and this time she is careful. So please be warned NOT to have your child pull on the pump or balls that hang down from the hat.
Was this review helpful?

by C.B. on 09/07/2015
Got this for my daughter's little neighbor-friend and he LOVED it. The hat is seriously adorable and can be worn by either boys or girls. My daughter immediately wanted one, too. Runs a tiny bit small but it seems like it is pretty stretchy, so it's all good. Perfect for the little dragon trainer in your life.
Was this review helpful?

by G.L. on 09/06/2015
First off the hat is cute, super cute and I don't think this time everyone at school will be able to run to the store a month later and clone him. The tag says 4+! My son is 6 and it is a bit tight (doesn't stop him from wearing it) I would say smaller than other flipeez. One ear/wing does not go as high as the other, very similar to the photo... the one side sits lower when the ball is squeezed. Even after all that I'd highly recommend the hat. My son loves it, begs to wear it, and gets complimented multiple times daily. It's adorable and original!
Was this review helpful?

by M.S. on 09/04/2015
My daughter (now 8) has been in love with SpongeBob since she was 3. Hoping it was a phase, I fed into the "buy everything Sponge Bob" for every birthday and Christmas to the point where, there is simply nothing left that she hasn't been gifted. From alarm clocks, to room decor, to toys, and just when you think nothing is left, she sees this! Although I decided I was going to ween her off of the Sponge Bob craze, I decided to purchase this hat to go with her costume (sponge Bob of course!) for Halloween since it was going to be cold. The positives, she loves this hat and it is quite warm. Not a cheaply made or thin material. When you squeeze the hairy ball, sponge bobs arms fly up. BUT, unless you squeeze violently, one arm always raises higher than the other. Also, this hat JUST fits her. She is a small 8 yr old. short and skinny and a relatively small head. Typically she still wears a kids size 6 (just to give you perspective) there isn't much room to grow into this hat. I...
Was this review helpful?

by B.U. on 09/01/2015
Alright - so I'm 25. I saw this adorable hat in a store, and despite the price my inner child was fixated on it. I debated, and debated, and thought, 'Surely adults can't wear these.' But you know what? Let me tell you this story. I was visiting a hospital the day I bought it. My mother in law was very sick. I typically don't like hospitals myself; the general grimness gets to me. There's a lot of pain, physically and emotionally. But this time, I was wearing this hat. On seeing it, the visiting doctor, who looked so rushed, immediately brightened and gave a heartfelt smile and laugh. An elderly man broke out giggling like he was a kid again, complimenting the hat profusely, letting me know I had really brought a bright spot to his day. An exhausted nurse paused and gave me a strange look while sorting through her paperwork. I flipped the tail up and down. She gave a smile that reached all the way to her eyes and chuckled. It's one of the best purchases I've ever...
Was this review helpful?

by S.U. on 12/15/2014
Bought as a gift arrived on time and was exactly what I wanted
Was this review helpful?

by D.O. on 10/12/2014
when opening the package in which this product came my son was just all smiles he had seen the commercials and was so excited to see he had one for himself. so i also received two extra ones, because my older children would not be caught dead wearing them i gave them to my nieces. now me and my sister never have to beg for our kids to put on their hats. because these hats are so cute and fun to them they always keep them in a safe place...
Was this review helpful?

by K.U. on 07/08/2014
My daughter liked it but if it gets wet the tube will break and it will stop working.
Was this review helpful?

by G.U. on 02/06/2014
My friends and I got a few of the FLippeez as Gag gifts for a holiday party but we had so much fun wearing them that we decided they are not just for kids. The hats are really cute, they keep your head warm and make people laugh.
Was this review helpful?

by G.R. on 12/28/2013
While it was just what the kids wanted I felt the price was a little much. The bulb on the kitty was kind of hard for the 7 year old to squeeze but I think it will get easier after messing with it a few times.But then I had to buy 3.
Was this review helpful?

by T.C. on 12/26/2013
The hats are adorable and the kids all loved them, when they FINALLY WERE DELIVERED! I don't know what happened, it's like my order got lost or something! My kids had to wait what seemed like forever to get their hats!
Was this review helpful?

by G.R. on 11/27/2013
I bought it for my granddaughter and she loves it so I'm happy. The product was very cute and seems to be well made. It took her a few tries to get the tail to move when she squeezed it. She was happy so that made me happy.
Was this review helpful?

by M.J. on 11/27/2013
xmas gift for my granddaughter
Was this review helpful?

by P.A. on 11/25/2013
My stepdaughter is 11 years old and saw these on TV and just had to have it. She was very excited when it finally came and has been wearing it ever since. She absolutely loves making the hat move.
Was this review helpful?
Rating Summary

24 total ratings
| | | |
| --- | --- | --- |
| 5 star | | 29% |
| 4 star | | 45% |
| 3 star | | 25% |
| 2 star | | - |
| 1 star | | - |
All ratings are from verified customer purchases.
Customers who viewed this item also viewed
Your Recently Viewed Items