Flow Cable

Be the first to write a review!
---
List Price:$29.99
Price:$9.94
You Save:$20.05 (67%)
Visualizes the flow of electricity to your phone
Flowing EL light stops when device is fully charged
Two-in-one cable, compatible with both Apple and Android devices
Visible flowing speed indicates charging current
Product Description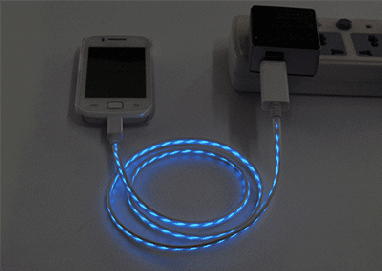 Most USB and iPhone / Apple charging cables aren't what you would call "cool," but this one definitely is!
When you plug in your device to charge, the cable itself lights up with pulses of glowing blue that appear to move down the cable from the power source to your device. What could be cooler than that?
And this display isn't just for fun. It actually gives you a visual indication of the charging process: The light pulses move quickly at first, then slow down as your device charges up, and finally stop and go out when charging is complete.
This is a two-in-one cable, compatible with both Apple and Android devices. The certified Apple Lightning connector works with all of Apple's recent devices -- all iPhones from the iPhone 5 onward, all iPads from generation 4 and later, all iPad minis, iPod Touch 5th generation and later, and the iPod Nano 7th generation and later. For Android devices, this cable also has a micro USB connector that will work with most Android phones and tablets.
Apart from the cool flowing light feature, this is a top-quality cable. Its flat design makes it resistant to wear-related damage, and it has a greater than 5,000 bend lifespan. This is several times longer than standard cables.
- Cable length: 3 feet
- Certification: MFI Certified
- 2.4A, Quick Charge, Charging and Data Sync
Apple MFi Certified: Fully compatible with iPhone X, iPhone 8 Plus, iPhone 8, iPhone 7 Plus, iPhone 7, iPhone6, iPhone6 Plus, iPhone 5, iPad mini, iPad 4, iPod touch 5, iPod nano 7 and Android cellphones and tablets.
Customers who bought this also bought
Flow Cable Reviews
Flow Cable Reviews
No customers have left a written review of this product yet.
You can be the first to write one!
Rating Summary

45 total ratings
| | | |
| --- | --- | --- |
| 5 star | | 55% |
| 4 star | | 44% |
| 3 star | | - |
| 2 star | | - |
| 1 star | | - |
All ratings are from verified customer purchases.
Customers who viewed this item also viewed
Your Recently Viewed Items