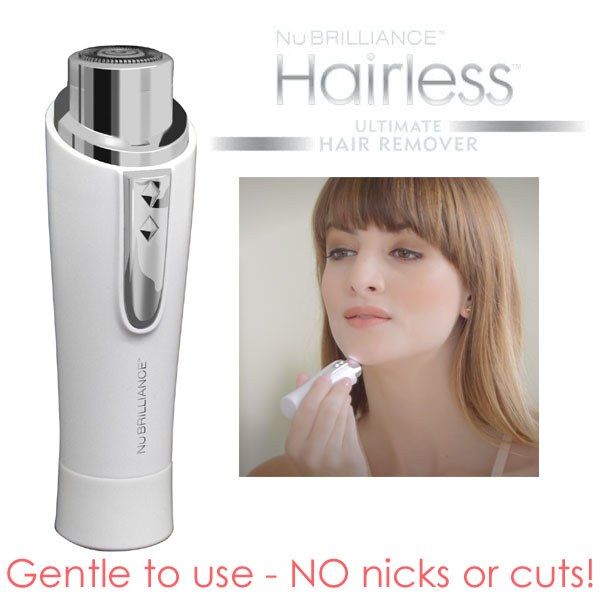 Hairless by NuBrilliance

Be the first to write a review!
---
List Price:$29.99
Price:$19.95
You Save:$10.04 (33%)
The Pain-Free Hair Remover
Compact and cordless
Go from hairy to hairless in just seconds
Perfect for upper chin, lip, cheek and sideburn hair!
Product Description
You deserve to look your best. And by using Hairless by NuBrilliance, you will not only look your best, you will also feel your best!

Hairless is the fast and easy way to remove your unwanted facial hair, without waxing, shaving, plucking, using harsh chemical creams or having an expensive treatment.

Hairless by NuBrilliance has revolutionized home hair removal with its hypoallergenic titanium head and microvibrational technology making Hairless completely pain free! And yet Hairless is powerful enough to remove upper lip, chin, cheek and sideburn hair. Safe for all skin types

Hairless is compact and cordless so it fits easily in your purse. Hairless is water resistant so you can use it while taking a shower, and it comes with a built-in light to ensure you remove even the tiniest of hairs and peach fuzz.

And best of all you can use Hairless daily, with no need to wait for hair to grow. Say goodbye to painful waxing and expensive treatments


Customers who bought this also bought
Hairless by NuBrilliance Reviews
Hairless by NuBrilliance Reviews
No customers have left a written review of this product yet.
You can be the first to write one!
Customers who viewed this item also viewed
Your Recently Viewed Items