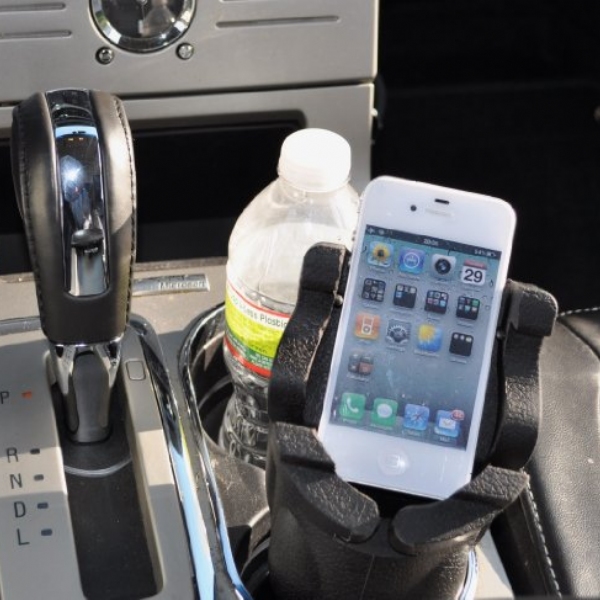 Hercules Holder- The Smart Phone Holder

1 review
---
List Price:$24.99
Price:$16.99
You Save:$8.00 (32%)
This cup-holder adapter keeps smartphones within reach during car rides
Also works as a countertop stand
Fits securely in cup holders without adjustment
Great in the car when using your phone as a GPS!
Product Description
The Hercules Holder Smartphone Mount cup-holder adapter keeps smartphones within reach during car rides, not so that you can text and drive-that's illegal-but so that you can at least see your phone and be comforted by its presence.

Its pliable base fits securely into most cup holders, transforming them into stands that display smartphones in landscape or portrait orientation for easy GPS navigation. A flat bottom, meanwhile, allows it to be used as a stand on desktops and counters to keep phones at ideal viewing angles.

Includes: 1 x Hercules Holder- The Smart Phone Holder (BLACK)
Customers who bought this also bought
Hercules Holder- The Smart Phone Holder Reviews
Hercules Holder- The Smart Phone Holder Reviews

by D.F. on 11/08/2019
Nice fit. Holds my phone in my truck very securely and allows the charger cord to stay attached.Also use this on my writing table. Easily to read texts at a glance.
Was this review helpful?
Rating Summary

50 total ratings
| | | |
| --- | --- | --- |
| 5 star | | 44% |
| 4 star | | 54% |
| 3 star | | - |
| 2 star | | - |
| 1 star | | 2% |
All ratings are from verified customer purchases.
Customers who viewed this item also viewed
Your Recently Viewed Items