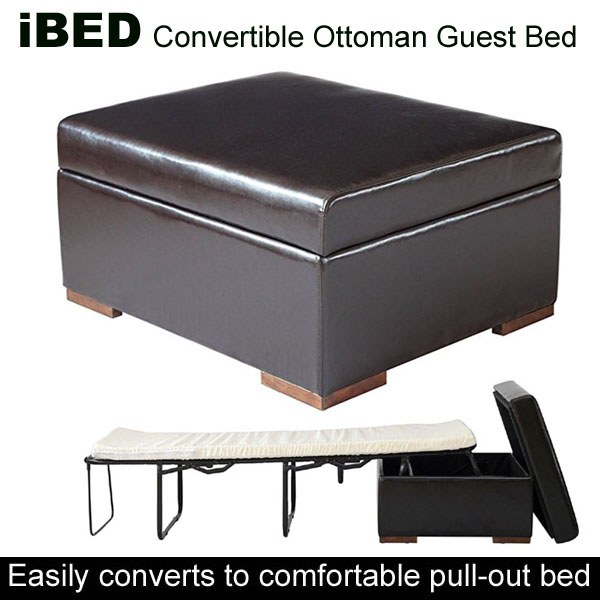 iBED Convertible Ottoman Guest Bed

Be the first to write a review!
---
Price:$349.99
SELECT AN OPTIONOption:
Transforms from faux leather ottoman to pull out bed in an instant.
Beautiful faux leather.
Extra comfortable guest bed includes 2" foam mattress.
Great for living rooms, bedrooms and vacation homes.
Product Description
iBED convertible ottoman guest bed is a beautiful piece of furniture that is at home in any living room, apartment, or dorm. Attractive ottoman that easily converts into an extra comfortable guest bed.

Thousands of satisfied customers have been amazed at how well they sleep on an iBED. Provides better sleep, is more reliable, and quicker to set up than air mattresses. Arrives ready to use, no assembly required. Comfortable 2" foam mattress sits 16" off the ground, supported by a flexible mesh that contours to the body without any uncomfortable bars.

Pull-out bed is over 6 feet long and 2.5 feet wide, great for children and adults up to 275 lbs.
Customers who bought this also bought
iBED Convertible Ottoman Guest Bed Reviews
iBED Convertible Ottoman Guest Bed Reviews
No customers have left a written review of this product yet.
You can be the first to write one!
Customers who viewed this item also viewed
Your Recently Viewed Items