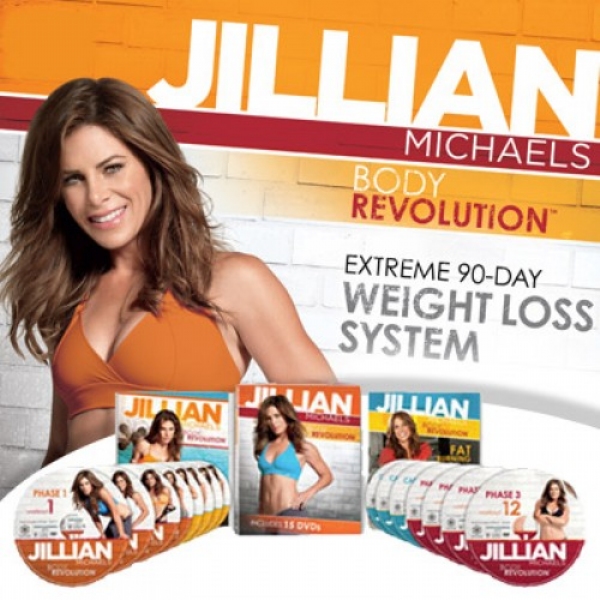 Jillian Michaels Body Revolution

Be the first to write a review!
---
Jillian's first comprehensive extreme weight loss system.
Most Cutting Edge Workouts EVER
State of the Art Diet Plan
In Just 30 Minutes a DAY
Product Description
Jullian Michaels Body Revolution, Jillian's first comprehensive extreme weight loss system. The program consists of the smartest most cutting-edge workouts Jillian's ever put out on DVD and here scientifically proven state-of-the-art diet plan. So are you ready to push the envelope and challenge yourself to lose the weight and get in the best shape of your life? Jillian's been helping people transform their body and change their lives for over 20 years. It's your turn to join the revolution and see the results you always wanted.

Jillian Michaels Body Revolution as seen on TV contains compact, super-effective workouts that will completely overhaul your entire physique in just 30 minutes a day, over the 90 day program. The workouts are split into three progressive Phases, each lasting one month. You'll get 4 Metabolic Training Circuit DVD's, plus one Cardio DVD for each of the three months. Each routine features a low-impact modifier so you can follow Jillian at whatever level is most comfortable for you!

Phase 1 Blast calories. Blast fat. Blast metabolism into the stratosphere. Workouts 1-4 plus Cardio 1

Phase 2 Get ready for a total body transformation! The results you will see in the mirror and in your physical performance will be staggering. Workouts 4-8 plus Cardio 2

Phase 3 Put the finishing touches on that hot new body! Workouts 9-12 plus Cardio 3

Jillian's Fitness Guide, Fat Burning Meal Plan
Customers who bought this also bought
Jillian Michaels Body Revolution Reviews
Jillian Michaels Body Revolution Reviews
No customers have left a written review of this product yet.
You can be the first to write one!
Customers who viewed this item also viewed
Your Recently Viewed Items