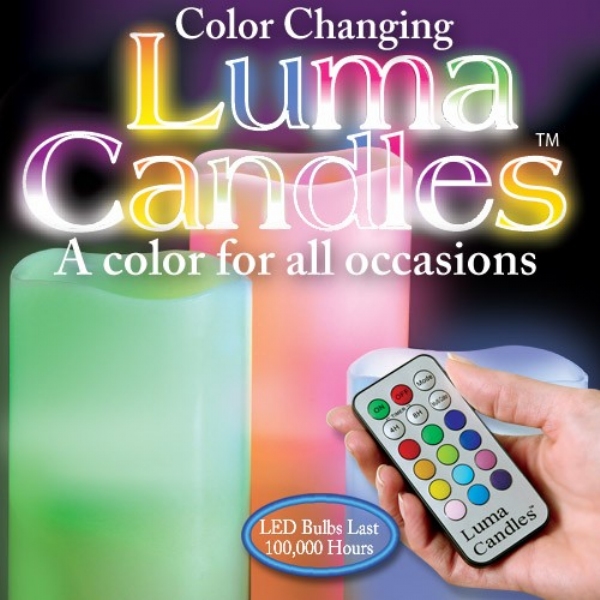 Luma Candles

21 reviews
---
List Price:$19.99
Price:$19.88
You Save:$0.11 (1%)
Option:
Luma Candles the amazing color changing candles with remote control.
Calming FRESH Vanilla Scent
Change the COLOR with REMOTE
No MESSY Wax or Dangerous Flames
Product Description
Luma Candles the amazing color changing candles with remote control. Enjoy candles without the messy wax and dangerous flames. Unlike other flameless candle, Luma Candles are made of real paraffin wax and have a fresh vanilla scent.

These LED color changing candles are the perfect accent to any room in your home. Great for outdoors, dinners and parties. The included remote allows you to change the color of the candles (individually) to 12 different colors! There is even a multi-color option and 4 and 8 hour timer! Each candle operates with 3 AAA batteries (not included). Now you can create elegant soft candle light for any gathering, the combinations are endless. Set includes 3 candles (6", 5" & 4 ") and remote.


Customers who bought this also bought
Luma Candles Reviews
Luma Candles Reviews

by D.A. on 09/18/2015
These candles came well packaged in fitted styrofoam and the boxes were then packed in a larger box with bubble wrap. Once opened, the candles were smooth and undamaged, and had a plastic sheet wrapped around each. The remote had a pull tab to protect the battery life and also came wrapped in plastic. I put batteries in, turned them on and the colors were vibrant but the light itself wasn't overly bright. The flicker mode is on a slightly different timer for each candle which makes for a nice real candle look. All other functions on the remote worked like a charm. It is very simple to change each candles color or mode individually or as a cluster. As opposed to other reviews I have read, I didn't need to hold one of them an extreme distance away, a few inches between each with the remote angled only towards the one you want to change and it worked great.
1 person found this helpful. Was this review helpful?

by T.K. on 09/18/2015
These have a REMOTE. They have a choice of 12 colors, or can rotate through colors. Each candle can be set individually, so you can mix colors. They can be set to flicker (it's subtle) or steady. They have a vanilla scent, it's in the wax itself, not heat-activated. Smells strong when you first get them out of the box, fades somewhat by the next day so it's not overpowering. Just a ton of fun, plus the colors are pretty. And they have a remote!
1 person found this helpful. Was this review helpful?

by A.M. on 02/08/2020
Like them
Was this review helpful?

by M.S. on 03/16/2018
Love these candles...for st St Patrick's Day I'm going to have them all green it's so nice doing business with you to see you kept me informed about the status of my package coming appreciate that part
Was this review helpful?

by L.H. on 06/28/2017
My husband and I both enjoying a quiet night, when allowed, enjoying these awesome candles!! Whoever, came up with the idea of an artificial candle with lights changing was brilliant!!!
Was this review helpful?

by S.L. on 03/19/2017
Great
Was this review helpful?

by D.L. on 09/18/2015
These three candles are so cool! The remote lets you put them on a 4 or 8 hour timer, you can choose which color you would like each candle to be and they flicker like they're real. They seem sturdy. So many variations colors make them fun, and they would make a great gift for anyone.
Was this review helpful?

by K.E. on 05/05/2015
I use it for romantic dinners setting romantic calming colors and setting them to flicker.. I also set them with RGB colors with a flicker and a 4 hour timer before going to sleep I love to watch flames make a candle flicker but its not safe to fall asleep with having a real candle lit so this is a must have for those that are looking for a candle alternative
Was this review helpful?

by K.I. on 04/26/2015
REALLY NICE PRODUCT
Was this review helpful?

by C.F. on 04/23/2015
These are awesome! We bought 2 sets. We have them in various areas. You can have them change color or keep them just one color. Very cool! You can use the different colors to match the holiday! Love, love, love this!
Was this review helpful?

by L.O. on 03/17/2015
I have a long hallway with a built in book shelf that goes from doorway to doorway, ceiling to floor. I strategically placed the candles on the bookshelves and now have adequate lighting down the hallway, and it has a pleasant glow to it.
Was this review helpful?

by Z.I. on 02/16/2015
the flicker mode isn't great, but the multi-mode is!
Was this review helpful?

by H.C. on 01/27/2015
Will look great on my curio. Bought 2 sets...really like them!
Was this review helpful?

by J.E. on 01/21/2015
very pleased with the candles nice design and love the vanilla sent
Was this review helpful?

by T.H. on 01/18/2015
Got as a gift.I love them! I use them as light at night when watching t.v.
Was this review helpful?

by H.I. on 01/07/2015
in the bedroom for nitelight
Was this review helpful?

by P.A. on 01/06/2015
They are neat, kinda random convo piece. I like the 4hr and 8hr timer so it wont kill your batteries if you forget them for hours. Batteries last a long time. but they are actually made of wax, so they will melt if you get them too close to warm things... maybe I should buy 3 more!!!
Was this review helpful?

by G.A. on 01/05/2015
I first bought these in a local, drug store chain. Little did I know how beautiful and unusual these candles are. I absolutely love knowing there is no flame and this a safe way to add light or just when you want to create a warm atmosphere. This makes a great gift, and I regret not using it for our family Yankee Swap this Christmas. While there are I believe 12, different colors on the remote, it's slightly off because some colors are almost identical or non-existent, meaning if it's green, for example, you'll get another blue. Don't let that stop you from buying them. There are at least 8, different colors. It's fun having the remote, which you use to change colors, mode and for on/off. I have a set in our family room, on the mantle. I prefer no scent because of allergies/headaches, but many people do like the scent. I highly recommend these candles. I got online to buy another set. Enjoy!
Was this review helpful?

by D.. on 12/30/2014
The product is fine but it was back ordered and it took several weeks to get. I could have bought it in a store at the same price and saved on shipping.
Was this review helpful?

by O.R. on 12/30/2014
I love the use of the remote and I like to set them to multicolor. They have a nice scent to them, and accent my living room perfectly.
Was this review helpful?

by J.T. on 08/08/2014
They are absolutely amazing! They look great, they feel great and they smell great
Was this review helpful?
Rating Summary

54 total ratings
| | | |
| --- | --- | --- |
| 5 star | | 75% |
| 4 star | | 22% |
| 3 star | | 1% |
| 2 star | | - |
| 1 star | | - |
All ratings are from verified customer purchases.
Customers who viewed this item also viewed
Your Recently Viewed Items