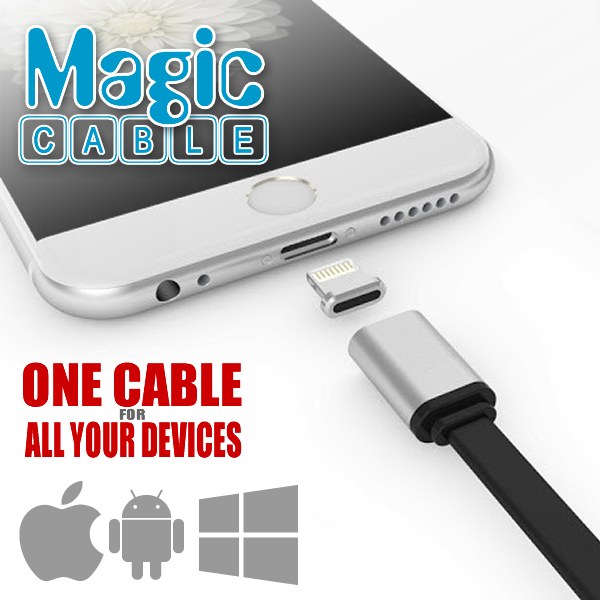 Magic Cable

Be the first to write a review!
---
The only cable you'll need! One cable for iPhone, Android, and Windows phones.
Magnet connection - just touch and start charging.
Use for charging or data transfer.
Use the same cable for iPhone, iPad, Android, Windows, and USB devices.
Product Description
Introducing Magic Cable, the one cable that charges all of your devices!

Magic Cable is a revolutionary magnetic USB cable that makes charging any device easy! Just insert the micro tip into your device - and leave it there. It's so small you won't even notice it. Once the tip is in place, just touch it to any Magic Cable and start charging or transferring data.

Magic Cable works with a neodymium magnet, and works with any device - Apple, Android, Microsoft, iPad's, tablets, iPod's, or anything that uses a USB or Lightning port. One cable for all your devices!

Includes 1x Magic Cable with 2 micro tips: One for Apple and one for Micro USB.
Customers who bought this also bought
Magic Cable Reviews
Magic Cable Reviews
No customers have left a written review of this product yet.
You can be the first to write one!
Customers who viewed this item also viewed
Your Recently Viewed Items