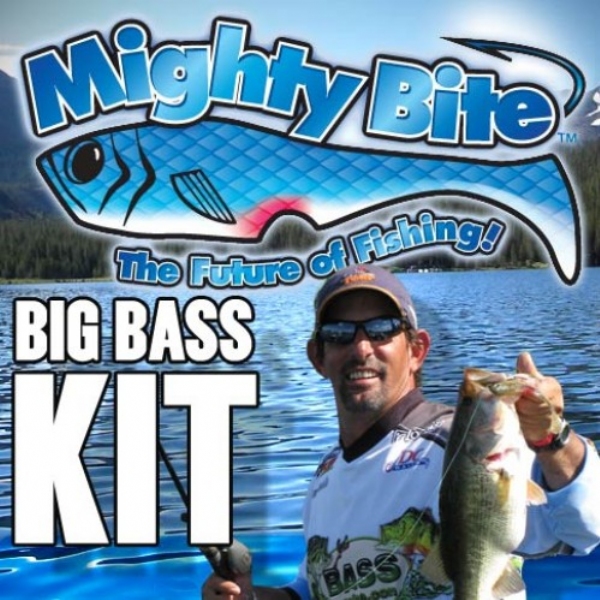 Mighty Bite Lures

5 reviews
---
List Price:$19.95
Price:$14.95
You Save:$5.00 (25%)
SELECT AN OPTIONOption:
The Future of Fishing!
Product Description
The Mighty Bite Professional Kit includes over 100 pieces! The Professional kit includes lures, hooks, scent sticks, tail weights, weed guards, rattles and more! It's a must have for professional and weekend fisherman alike.

But that's not all, you'll also get the Jeff Mancini instructional guide and 30 minute instructional DVD to give you tips on using your Mighty Bite fishing system and show even the most experienced anglers how to get the most out of this amazing 5 sense fishing system.

The Big Bass Kit is a carefully designed kit that has everything you need to catch big bass. Each kit contains 4 Mighty Bite Hooked Lures, two 3 ¾ and two 5 ½ inch Tennessee Shad and Herring hooked lures! Plus you'll also receive Scent Sticks, fins, weights and rattles. Bass are one of the most popular fish to catch and the Big Bass Bonus Kit is one of our most popular Mighty Bite kits available!

The Mighty Bite UFO Glow Kit comes with 12 unique Glow sticks in various colors and sizes to fully customize your Mighty Bite for explosive night fishing action! It's like a glowing target for predatory fish!
Customers who bought this also bought
Mighty Bite Lures Reviews
Mighty Bite Lures Reviews

by H.S. on 06/25/2019
These were so fun to use! I didn't catch Any fish, but then no one did! Lol
Was this review helpful?

by O.P. on 05/21/2019
mighty bite does work
Was this review helpful?

by J.S. on 11/12/2016
It really works of my phone died in to go to work you It really works
Was this review helpful?

by E.L. on 06/16/2014
This Fishing Lure is it . Finelly a Fishing Product that really Works like it says. You Will Catch Fish. Great for every person going Fishing anywhere.
Was this review helpful?

by E.L. on 06/16/2014
If youve never cought a fish, or your luck is poor, then this is for you. You can't miss with this glow stick inserted into the Mighty Bite Fishing lure. A strike every time.
Was this review helpful?
Rating Summary

42 total ratings
| | | |
| --- | --- | --- |
| 5 star | | 71% |
| 4 star | | 28% |
| 3 star | | - |
| 2 star | | - |
| 1 star | | - |
All ratings are from verified customer purchases.
Customers who viewed this item also viewed
Your Recently Viewed Items