Pintwist

Be the first to write a review!
---
List Price:$14.98
Price:$9.98
You Save:$5.00 (33%)
Option:
World's strongest and largest hair pins
Hides neatly inside of any twist of hair and in any direction
Holds all the hair with just one pin
Salon pro results in seconds
Product Description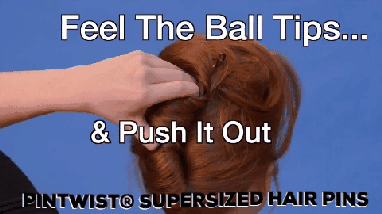 Pintwist, the world's largest hair pins are a new and unique method for pinning hair up. Designed with a "pinch and capture" feature that holds much larger quantities of hair in just one pin.
Made of high carbon steel and curved to fit the natural shape of the head, it holds a twist of hair in any direction (even upside down) making styles quicker and easier with salon pro results because it conceals within the twist itself. Pintwist was designed to hold any length of hair as long as it can be twisted. The holding power of a Pintwist pin won't come out until you push it out and leaves the hair beautifully full bodied when removed.
Each 4 pack unit consists of 2 large (4.5 inches) pins and 2 small (3 inches) pins.
The large Pintwist® pin weighs .31 oz and the mini Pintwist® pin weighs .12 oz
Customers who bought this also bought
Pintwist Reviews
Pintwist Reviews
No customers have left a written review of this product yet.
You can be the first to write one!
Rating Summary

20 total ratings
| | | |
| --- | --- | --- |
| 5 star | | 50% |
| 4 star | | 50% |
| 3 star | | - |
| 2 star | | - |
| 1 star | | - |
All ratings are from verified customer purchases.
Customers who viewed this item also viewed
Your Recently Viewed Items