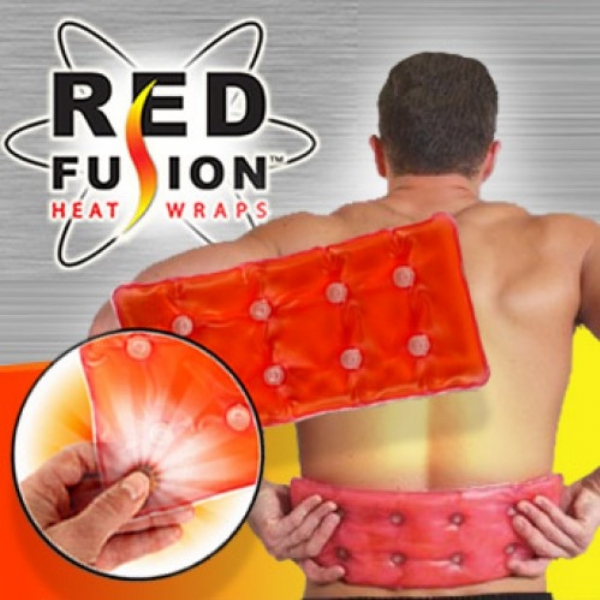 Red Fusion Heat Wrap

Be the first to write a review!
---
This Heat Wrap is the new breakthrough for soothing warmth!
Comfortably Transitions up to 130 Degrees
Natural Crystal Fusion Reaction
Re-usable AGAIN and AGAIN
Product Description
Snap! Crystal! Hot! Red Fusion Heat Wrap is the new breakthrough for soothing warmth where and when you need it! Just snap the activation disc to trigger the Crystal-Fusion reaction. Use the Red Fusion Heat Wrap, as seen on TV, anytime, anywhere. In seconds, the Red Fusion wrap transforms from room temperature to a comfy 130 F Degrees!

The Red Fusion Secret is A Natural Crystal Fusion Reaction. Reusable over and over and over again, the Red Fusion heat wraps are designed to last. No reheating in a microwave or keeping it in a freezer is needed. Once the Red Fusion heat wrap cools, just place it in boiling water in order to return it to its "ready state". In minutes, your heat wrap is ready for reuse. 130 F Degrees of long lasting heat. Messy topical rubs, patches and iron-based heat products can become intensely hot. The Red Fusion Crystal-Fusion reaction is a natural process that reaches a peak temperature of 130 F degrees in a matter of seconds. Best of all, the soothing warmth radiates and lasts for a surprisingly long time, gradually cooling as it comforts and soothes.

Mold N Hold™ Technology keeps Red Fusion Heat Wraps in place. Red Fusion heat wraps feel so great because once the reaction is triggered, the natural liquid crystallizes into a soft malleable gel that shapes and conforms to your unique body contours. We call this the Mold N Hold™ effect that focuses the Red Fusion warmth right where you want it. Plus, since the wrap conforms to you, the Mold N Hold™ effect helps to keep it in place even when you move and shift about. The Iso soft belt helps Red Fusion heat wrap retain its heat for a longer period of time.

Buy the Red Fusion Heat Wrap today!

Dimensions: 14.5"x 4"

Includes: Red Fusion Heat Wrap and Soft Belt

Made In: China
Customers who bought this also bought
Red Fusion Heat Wrap Reviews
Red Fusion Heat Wrap Reviews
No customers have left a written review of this product yet.
You can be the first to write one!
Customers who viewed this item also viewed
Your Recently Viewed Items