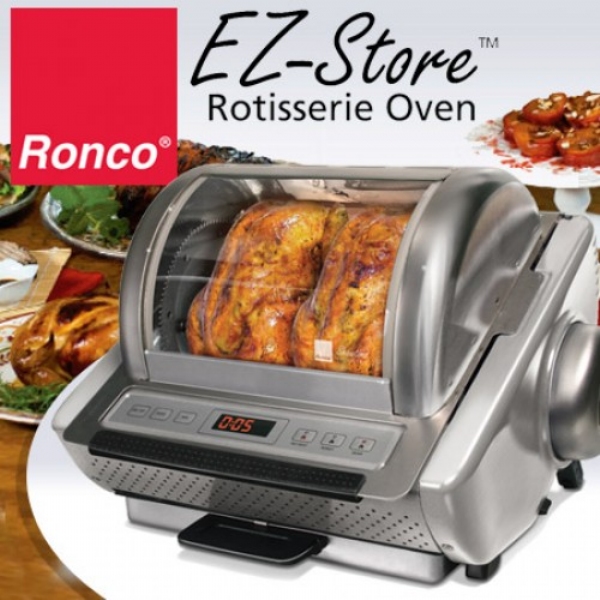 Ronco EZ Store Rotisserie

7 reviews
---
List Price:$199.99
Price:$179.99
You Save:$20.00 (10%)
Option:
Locks in flavor and drains away fat for healthy, delicious meals fast!
15lb Capacity
Digital Control Panel
Precision Rotation
Product Description
Ronco Ez Store Rotisserie locks in flavor and drains away fat for healthy, delicious meals fast! Love the idea of a home rotisserie but short on counter space?



Meet the EZ-Store Rotisserie as seen on TV, make scrumptious appetizers, entrees, even desserts! Precision rotation speed ensures even cooking. The self-basting rotation locks in the flavor, while fat drains away. Digital control panel adds convenience. Large capacity holds up to 15 lbs. of meat.



Nesting design for easy storage - only 7.750" high. Depth Front to Back: 15.25 Inches Height 12.75 Inches,1250 watts, cord 40".



Includes multi-purpose basket, rotisserie spit, carving platform, removable drip tray, oven gloves and food ties. Available in red or stainless.




Customers who bought this also bought
Ronco EZ Store Rotisserie Reviews
Ronco EZ Store Rotisserie Reviews

by B.K. on 09/14/2015
Love it! Food turns out juicy. If I had to be picky I would say it's a little noisy. I highly recommend.
1 person found this helpful. Was this review helpful?

by W.A. on 09/21/2015
This rotisserie is AWESOME. The clean-up is remarkably easy. It doesn't take up much space (as far as rotisseries go) and it delivered the most tasty rotisserie chicken evUUUR. The first-time set up was a little bit tricky... but, it doesn't take much to get the hang of it. All in all, I would highly recommend it. It saves you alot of cash on prepared foods. It saves you a lot of fat and calories. I kind of like the idea of just having rotisserie foods to pick off of in the fridge. I am looking forward to "rotisserizing" many many things, in the days to come!
Was this review helpful?

by G.D. on 09/18/2015
The unit was great. Love the way it stores.Easy clean up.
Was this review helpful?

by T.F. on 09/14/2015
Love how compact it is for storage, yet I still have the ability to rotisserie 3 game hens or 2 chickens. Also use it for steaks...and they turn out great!
Was this review helpful?

by R.O. on 09/10/2015
I just made the most amazing prime rib ever in this rotisserie. I really can't believe how good it was. I just put the seasoned prime rib on the spit, put it in the machine and let it go. It was so easy and the outcome was incredible.
Was this review helpful?

by C.V. on 09/09/2015
I had a baby George Foreman Rotisserie oven which I love, but it is now so expensive I couldn't replace it. I had it for over 10 years. The Ronco does a good job on cooking, but it is bigger than the Foreman so takes up more space.The rotisserie set up for the basket is cumbersome compared to the Foreman. I really only use the basket because I mainly use it to cook for 1 person. I like the non stick basket with the Ronco, but it is too narrow and I spend time trying to figure out how to place items so it's balanced to cook. The Foreman basket was much better designed, but not non stick.
Was this review helpful?

by B.L. on 09/04/2015
I've used this half a dozen times now, mostly to cook whole chickens, but also have used the basket to cook steaks, salmon, and veggies. I've cooked one chicken at a time and two - got the best result out of cooking two at a time but that might have been due to the marinating process, not the double chicken factor. Really easy to set up, easy to clean - just soak for a minute then scrub off. I've even left it to sit for a couple days and it's still easy to clean. The top lid reverses to take up less storage space. It does get really hot, so be careful not to use this under a cabinet - it will likely melt the lamination on kitchen counters & cabinet doors. We set it up on our kitchen table away from the walls. Recipe recommendation - marinate the chicken overnight in a giant ziploc bag with a mix of 3 tablespoons of "meat masala" (any brand will due) and 1 cup of whole fat yogurt + salt. Seal up the bag and then really massage the mixture into...
Was this review helpful?
Rating Summary

7 total ratings
| | | |
| --- | --- | --- |
| 5 star | | 57% |
| 4 star | | 42% |
| 3 star | | - |
| 2 star | | - |
| 1 star | | - |
All ratings are from verified customer purchases.
Customers who viewed this item also viewed
Your Recently Viewed Items