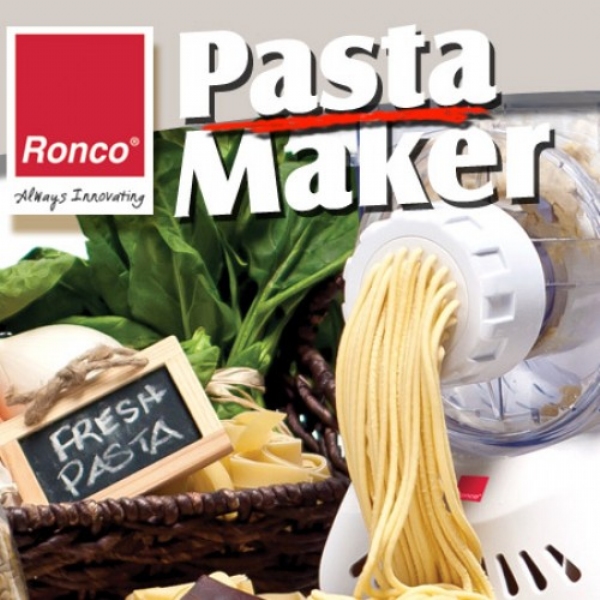 Ronco Pasta Maker

1 review
---
Make delicious fresh homemade pasta in minutes!!!
Delicious Homemade in minutes
Dishwasher Safe attachments
FDA approved materials
Product Description
Make delicious fresh homemade pasta in minutes with the Ronco Pasta Maker by Ron Popeil. Ronco Pasta Maker as seen on TV is perfect for quick homemade meals. It is easy to use and includes an instructional video to get you started. Select the pasta die for your desired pasta shape and let the machine automatically make pasta from water and semolina flour.



The pasta maker automatically mixes, kneads and shapes fresh pasta. Motor stops for safety when lid is opened. Features Automatic pasta cutter and built-in dryer. Cleanup is easy, thanks to the dishwasher-safe attachments.



All parts are FDA approved materials for food contact. Lightweight with a powerful motor. Makes standard and gourmet pastas! Also makes sausage, cookies and small bagels. Ronco Pasta Maker makes delicious fresh pasta that is so good you'll never be satisfied with the store-bought pasta again!
Customers who bought this also bought
Ronco Pasta Maker Reviews
Ronco Pasta Maker Reviews

by H.E. on 01/30/2012
I got one of these about 12 years ago, when Ronco first introduced it because I love pasta, the fresher, the better!! Used this thing on an almost weekly basis for quite a few years, and used it until it literally fell apart. Just had to retire it shortly before Thanksviving 2011, was making noodles for chicken soup when the plastic drum finally cracked apart and bit it. The motor was still going fine, though. If I could have found replacement parts, I would still be using it. Overall, I got my money's worth out of it, and it's not very much more expensive now than it was when I bought it years ago, and as soon as I have a few extra bucks, I'm getting another one!
Was this review helpful?
Rating Summary

1 total ratings
| | | |
| --- | --- | --- |
| 5 star | | - |
| 4 star | | 100% |
| 3 star | | - |
| 2 star | | - |
| 1 star | | - |
All ratings are from verified customer purchases.
Customers who viewed this item also viewed
Your Recently Viewed Items