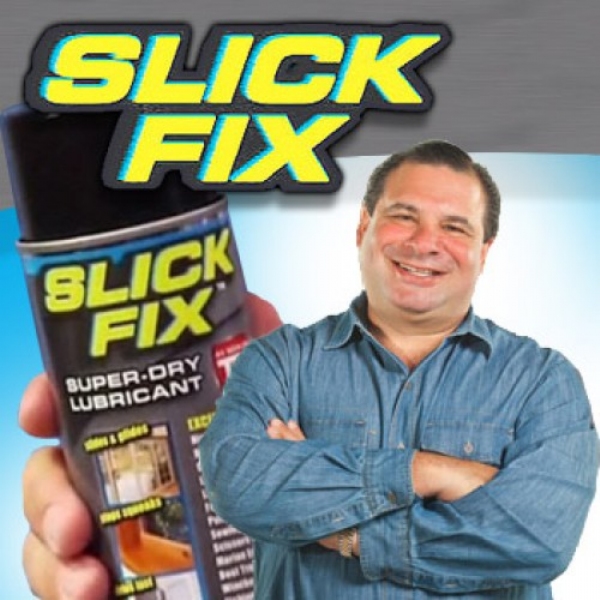 Slick Fix

3 reviews
---
List Price:$9.99
Price:$9.97
You Save:$0.02 (0%)
Slick Fix super-dry lubricant.
Dries in seconds
Lubricates
Odorless and Greaseless
Product Description
Slick Fix super-dry lubricant. From the maker of Flex Seal comes Slick Fix, seen on TV, new advanced formula makes everything it touches slide and glide, stops squeaks, all without the wet sticky mess!

Slick Fix reduces surface friction and lasts for months. It is odorless, grease-less oil free and non-staining. Slick Fix dries in seconds and won't attract dust or dirt like other lubricants. Slicker than silicone, lasts for months.

Slick Fix lubricates almost anything. Perfect for hinges, sliding doors, draws, windows, latches, tools, pulleys, wheels, scissors, shears, marine equipment, winches, fishing gear, hunting gear, lawn and outdoor equipment and much, much more!

Excellent for repelling bugs, tar and dirt on car bumpers! Whether it is a window or sliding door that sticks and will not open or an annoying squeaky hinge, Slick Fix is the answer.
Customers who bought this also bought
Slick Fix Reviews
Slick Fix Reviews

by S.H. on 11/21/2014
I USE IT ON MY SLIDING DOOR AT MY APARTMENT. I ONLY USE ONCE.
Was this review helpful?

by D.S. on 01/02/2014
This product was purchased for a Christmas gift.
Was this review helpful?

by T.C. on 09/06/2013
I love this item because it makes a hard job easy.
Was this review helpful?
Rating Summary

6 total ratings
| | | |
| --- | --- | --- |
| 5 star | | 66% |
| 4 star | | 33% |
| 3 star | | - |
| 2 star | | - |
| 1 star | | - |
All ratings are from verified customer purchases.
Customers who viewed this item also viewed
Your Recently Viewed Items