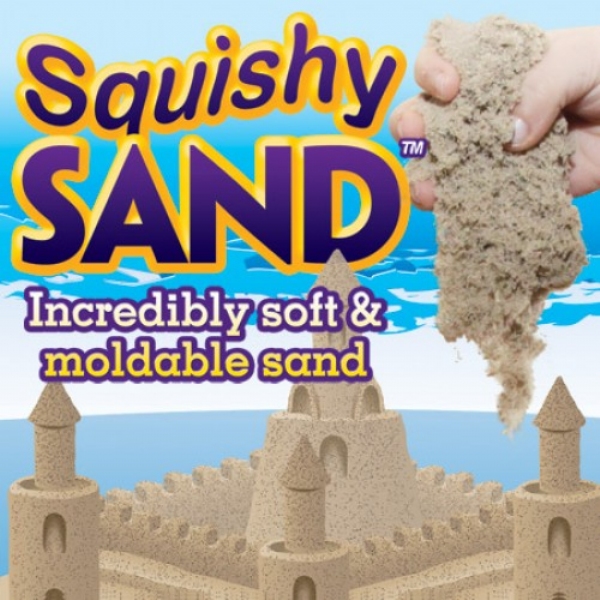 Squishy Sand

3 reviews
---
List Price:$24.99
Price:$9.99
You Save:$15.00 (60%)
The moldable, packable, shapeable, sculptable, incredible fun sand!
Moldable, Packable, Shapeable, and MORE
SAND Made for INDOOR USE
Won't STICK and NEVER Dries Out
Product Description
Squishy Sand from WHAM-O the moldable, packable, shapeable, sculptable, incredible fun sand that you will never want to put down! Squishy Sand as seen on TV, the amazing new kind of sand that's made for playing indoors. Unlike regular, messy sand, Squishy Sand is exciting, it sticks together. You can slice it, stack it, cut it, drip it, drop it, mold it! Kids love it and so do moms.

Squishy Sand doesn't stick to hands, tables, clothes or floors - only to itself. So clean up is always fast and easy. Never dies out. Promotes creativity. Non-toxic. Ages 5+. Includes 1.5 lbs of Squishy Sand and 3 sculpting tools.

Squishy Sand from WHAM-O the perfect holiday gift!
Customers who bought this also bought
Squishy Sand Reviews
Squishy Sand Reviews

by J.I. on 09/04/2015
It seems like people have unrealistic expectations for this product. It's sand. You're using it indoors. It's bound to get everywhere. It's the texture of really fresh brown sugar, so it's rather satisfying to play with and packs really well. We received it as a bday gift for my 3 year old son just before Christmas - perfect! Too cold to play outside in the partially frozen sandbox. Sometimes a kid just wants to get his hands in some sand, man! This is perfect for that. The inflatable sand "pool" is kind of stupid so I will be getting a different plastic tray to use, and it's HILARIOUS that they suggest you put the sand back into the little zip lock baggie that it can out of. Save your sanity and toss it in a gallon baggie. Not a lot of sand overall - if he stays interested I'll get more, but so far he plays happily at this one activity for about an hour. Works for me! I can handle taking a quick damp cloth to the table or floor to wipe up the sand that resisted...
1 person found this helpful. Was this review helpful?

by L.A. on 11/02/2014
I've played with other kinds of squishy sand, and this is the worst of them all. It is messy, you will get sand EVERYWHERE, it is NOT easy cleanup like it says. The sand doesn't stay together. Might as well buy real sand and add water to it to get the same effect. Buy a different brand, this is a terrible brand of squishy sand.
1 person found this helpful. Was this review helpful?

by S.T. on 12/30/2014
Works great and is so much fun! I wouldn't recommend just dumping it on the counter because it can make a mess and be hard to pick up. I put it on a baking sheet and it stays together well. I could play with this stuff for hours.
Was this review helpful?
Rating Summary

28 total ratings
| | | |
| --- | --- | --- |
| 5 star | | 39% |
| 4 star | | 57% |
| 3 star | | - |
| 2 star | | - |
| 1 star | | 3% |
All ratings are from verified customer purchases.
Customers who viewed this item also viewed
Your Recently Viewed Items