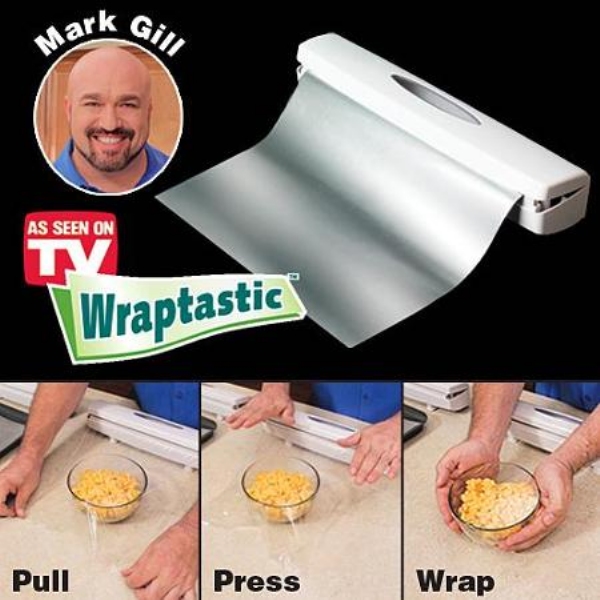 Wraptastic

7 reviews
---
List Price:$31.99
Price:$9.95
You Save:$22.04 (69%)
The smart dispenser that makes wrapping food super easy.
Cuts Perfectly EVERY Time
Fits ALL Your Favorite Brands
Wraps Food in a FLASH
Product Description
Wraptastic, the smart dispenser, makes wrapping food super easy. As Seen On TV, Wraptastic wraps food in a flash, simply load plastic wrap, wax paper or foil then pull, press, wrap! Cuts perfectly every time so there's no waste!

Features hidden blade that cuts safely and easily. The non-slip rubber feet holds Wraptastic in place. Wrap tastic is spring loaded so it is easy to start and never bunches, sticks or rips apart. Wraptastic fits all your favorite brands and standard with rolls up to 200 feet. Dishwasher safe and easy to store.

Buy Wraptastic today!


Customers who bought this also bought
Wraptastic Reviews
Wraptastic Reviews

by L.Y. on 09/02/2015
I hadn't read the reviews on this product before I ordered it from the TV commercial. And, I'm REALLY GLAD I hadn't because I might not have ordered it. I ordered 2 sets receiving 5 devices and I, too, had some problems with several of the devices particularly when foil was inserted. But, I took a close look at what was happening and realized the foil was "bonding" with the cutting blade. So, I just brushed some mineral oil (which I use on my butcher block) on the blade. Solved the problem very satisfactorily. So, I love the device .. all 5 of them. And, for those who complained they couldn't find a wrap that would fit into the unit, what in the world are you buying!!??!! The spring-loaded end inserts fit my Reynolds aluminum wrap and my Glad Cling-Free perfectly. They do not fit my Glad Press N Seal and I didn't expect them to .. that wrap has its own delivery system. I haven't had any trouble with the unit moving around when I use it. I suspect the...
4 people found this helpful. Was this review helpful?

by D.O. on 05/15/2015
It is nice not to get any more cuts from the boxes and have a tangled mess of plastic wrap. Very Handy. Thanks
3 people found this helpful. Was this review helpful?

by L.T. on 04/24/2015
I am a firm believer that you do not waste food. Leftovers are a favorite meal in our home and that's why I particularly like this product. It takes a little bit of time to get used to using it but once you're onto it, it works great. I use one for aluminum foil and the other for plastic wrap. Works great and saves me money because I don't have to throw the leftovers out. It cuts off the exact amount of foil or plastic wrap that I need. I have thrown out more foil and plastic wrap than I care to remember simply because the box it came in didn't cut the product off properly or else it stuck to itself and wouldn't allow me to roll it out easily thereby using way more foil or plastic than I should have required. No waste so far using these dispensers. I love it. Just push down and you're done.
3 people found this helpful. Was this review helpful?

by V.T. on 04/21/2015
Use the product so I do not waste wraps and can save foods for eating later
3 people found this helpful. Was this review helpful?

by B.R. on 08/17/2016
NO MORE MESSY WRAP PACKAGES, HURRAY
Was this review helpful?

by K.B. on 08/17/2016
Love it!! a little tricky working it at first but with time it is Great!!
Was this review helpful?

by J.U. on 05/22/2015
I save time ...cooking, baking, wrapping,storing food. I save time cleaning up pans and plastic food storage with liners. I save time wrapping gifts..now if only you made an item ti fit rolls of wrapping paper....then my life would be complete!
Was this review helpful?
Rating Summary

69 total ratings
| | | |
| --- | --- | --- |
| 5 star | | 97% |
| 4 star | | 2% |
| 3 star | | - |
| 2 star | | - |
| 1 star | | - |
All ratings are from verified customer purchases.
Customers who viewed this item also viewed
Your Recently Viewed Items