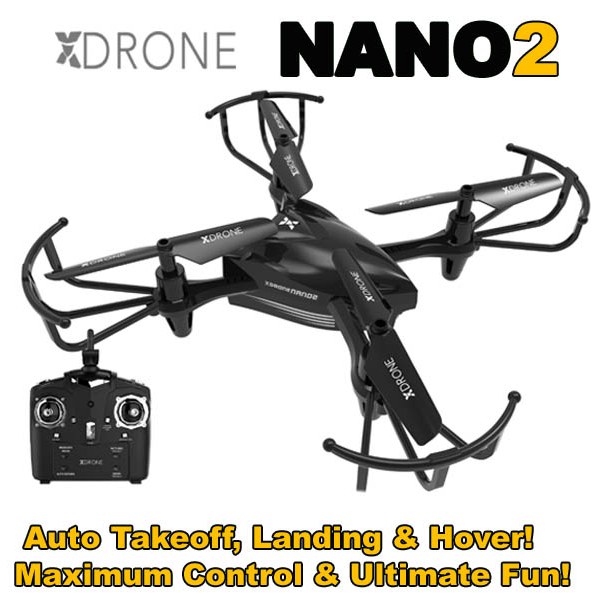 XDrone Nano 2

Be the first to write a review!
---
List Price:$49.99
Price:$48.99
You Save:$1.00 (2%)
Option:
XDrone Nano 2
Flips & Tricks
Fly indoors/outdoors
It's multi-rotor technology
Product Description
The XDrone Nano 2 features auto landing and takeoff, auto hover and updated firmware for maximum control and ultimate fun.

Capable of flying indoors or outdoors at up to 16mph it's the perfect quadcopter for small quarters.It's protective cage system guards the rotors and makes this flying machine hard to knockdown.

The multi-rotor technology and auto-stabilizing sensors allow the XDrone Nano 2 to safely and smoothly fly up/down, turn left/right, fly forward/backward and lean left/right.

Oh, and did we mention that it can perform acrobatic flips and tricks? Oh yeah.

Fly indoors/outdoors, master flips, tricks and speeds of up to 16 mph.

* 2.4Ghz Remote Control
* 150+ ft Range
* 6 Axis Gyroscope

Product dimensions and specs:
Product Size
Length: 6.69 in
Height: 1.57 in
Rotor Diameter: 1.57 in
Gross Weight: 0.69 lb

Charging Time: 30-40 minutes
Fly Time: 10-12 minutes
Range: 150+ ft
Battery: 3.7V Lipo (included)
Controller: 4 AA batteries (included)

In The Box:
1 x XDrone Nano 2
1 x 2.4GHz Remote Control
1 x Manual
1 x USB Charging cable
1 x Rechargeable Battery
4 x AA Batteries for the controller
4 x Spare Rotors
Customers who bought this also bought
XDrone Nano 2 Reviews
XDrone Nano 2 Reviews
No customers have left a written review of this product yet.
You can be the first to write one!
Customers who viewed this item also viewed
Your Recently Viewed Items