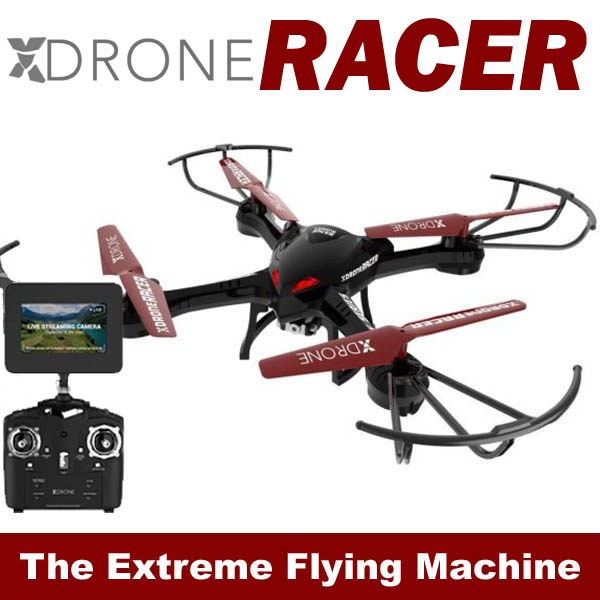 XDrone Racer

Be the first to write a review!
---
List Price:$149.99
Price:$99.99
You Save:$50.00 (33%)
Option:
Record video mid-air, master flips, tricks and speeds of up to 20 mph
2.4Ghz remote control
Built-in 720P video camera
Flips & Tricks: backflip-frontflip
Product Description
The new XDrone Racer includes real time video transmission 5.8GHz camera and LCD screen for ultimate racing. Auto landing and auto takeoff, auto hover and updated firmware for maximum control and ultimate fun.

Capable of flying indoors or outdoors and recording video at up to 20 mph. It's 6-axis gyroscope, multi-rotor technology and auto-stabilizing sensors allow the XDrone Racer to safely and smoothly fly up and down, turn left or right, fly forward and backward and lean left or right while recording video or taking pictures mid-air. Oh, and did we mention that it can perform acrobatic flips? Oh yeah.
.

Record video mid-air, master flips, tricks and speeds of up to 20 mph.
5.8GHz video camera with FPV function real time transmission
Includes LCD screen for Live Streaming
6-axis gyroscope
2.4Ghz remote control
indoor or outdoor
flips and tricks
Propellers guards


Product dimensions and specs:
Length: 16.92 in
Main rotor diameter: 3.54 in
Gross weight: 3.14 lb

Video quality: 200W - Wide Angle Lens
Experience level: Beginner - Intermediate
Recommended environment: indoor or outdoor
Assembly required

Battery: 3.7V LiPo battery (included)
Controller battery: 4 AA batteries (included)
XDrone charging time: 110 minutes
Flying time: 16 minutes (8 per battery)
Flying Range: 262 ft and 24 XDrones at the same time
Monitor charging time: 90 minutes
Monitor usage time: 90 minutes
Monitor display: 4.3 inches - 640x480 pixels
Camera frequency: 5.8GHz
Video range: 492 ft

Control: up/down, turn left/right, forward/backward and lean left/right, change direction, fixed heigh, front/back roll, left/right roll, photo, video, FPV.
Frequency: 2.4GHz

In the box:

1 x XDrone Racer
1 x 2.4GHz remote control
1 x 5.8GHz camera
1 x LCD screen
2 x legs
4 x blades guard
1 x screwdriver
14 x screws
1 x USB charging cable for Lipo battery
1 x USB charging cable for LCD screen
1 x micro sd card
1 x usb card reader
4 x front and back blades
2 x re-chargeable batteries
4 x AA batteries for the controller
1 x instruction manual


Customers who bought this also bought
XDrone Racer Reviews
XDrone Racer Reviews
No customers have left a written review of this product yet.
You can be the first to write one!
Rating Summary

1 total ratings
| | | |
| --- | --- | --- |
| 5 star | | 100% |
| 4 star | | - |
| 3 star | | - |
| 2 star | | - |
| 1 star | | - |
All ratings are from verified customer purchases.
Customers who viewed this item also viewed
Your Recently Viewed Items